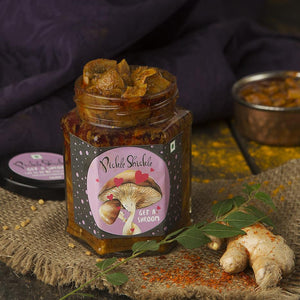 Pickle Shickle - Get-A-Shroom - Mushroom Pickle
Sale price Price Rs. 400.00 Regular price
Home-made pickle in small batches, this recipe has stayed true to the flavour we grew up on! We make sure you get loads of chunky, succulent mushrooms with every bite of this tangy, spicy and versatile pickle!
Crunchy- munchy, juicy bites of mushroom
The flavor of the mushroom marries so well with this masala
Perfect accompaniment to your meals even when you want to cook one dish less
Mild to medium spice level
A lot of people are apprehensive to try mushroom pickle, this one's tested and certified
Cooked in Rice Bran Oil

Shelf life lab tested and certified

No artificial preservatives

No artificial flavouring

Ingredients from top rated, certified vendors

FSSAI Approved

Cooked in small batches

Delivery 3 to 5 working days
Food Pairings
Dal + Rice + Mushroom Pickle
Pizza + Mushroom Pickle
Appam + Veg Ghassi + Mushroom Pickle 
Eggs: Scrambled / Omelette + Mushroom Pickle
Roti + Vegetable + Dal + Mushroom Pickle 
AND SO MUCH MORE...
Weight: 350 g
Best Before: 9 months from date of manufacture
Ingredients: Mushroom, Rice Bran Oil, Vinegar, Curry Leaves, Whole Green Chillies, Red Chilli Powder, Turmeric, Salt, Garlic, Ginger, Fenugreek, Cumin, Black Mustard Seeds, Sugar
Note*
Keep refrigerated after opening
Returns not accepted
Client Diaries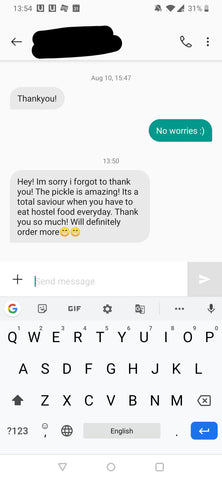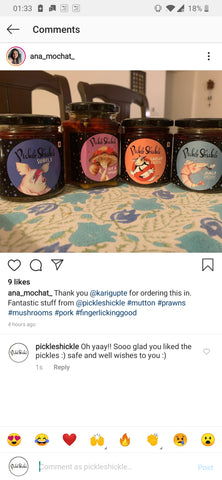 View All Products