Pickle Shickle - K K K Kamal - Lotus Stem Pickle
Sale price Price Rs. 350.00 Regular price
Our personal favourite! Bhein (as the Multanis call it), is something we grew up on from our paternal side of the family. So combining this vegetable with a recipe from our childhood had got to be special! And it is! This one is particularly yummy on crackers. And of course, with just about everything else too!
An offbeat, rare ingredient to use for pickle. Wonder why! 
Crunchy slices of lotus stem filled in this pickle
Looks beautiful and tastes even better
Mild Spice
Cooked in Rice Bran Oil
A wonderful change from the regular mango or lemon pickle
Shelf life lab tested and certified

No artificial preservatives

No artificial flavouring

Ingredients from top rated, certified vendors 

FSSAI Approved

Cooked in small batches 

Delivery 3 to 5 working days
Food Pairings

Pickle Shickle Poppers (Super easy to make, super hit party snack! Head to the recipe section)
Dal + Rice + Lotus Stem Pickle
Crackers + Lotus Stem Pickle
South Indian Style Curd Rice + Lotus Stem Pickle
Paneer Kathi Roll + Lotus Stem Pickle 
Aloo Tikkis + Toast + Lotus Stem Pickle 
AND SO MUCH MORE...
Weight: 350 g
Best Before: 9 months from date of manufacture
Ingredients: Lotus Stem, Rice Bran Oil, Vinegar, Curry Leaves, Whole Green Chillies, Red Chilli Powder, Turmeric, Salt, Garlic, Ginger, Fenugreek, Cumin, Black Mustard Seeds, Sugar
Note*
Keep refrigerated after opening
Returns not accepted
Client Diaries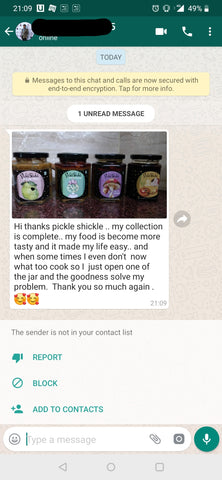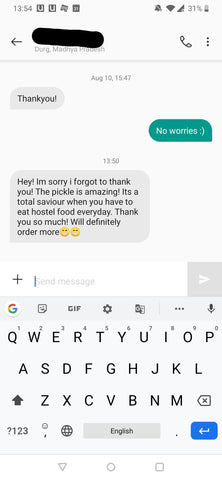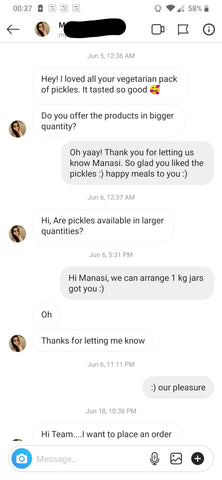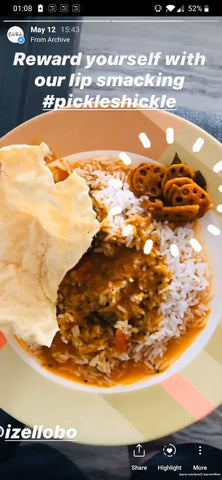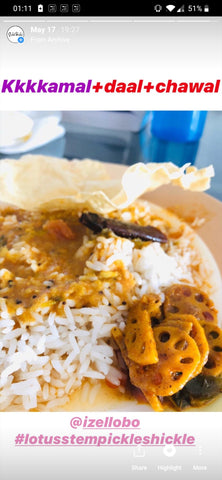 View All Products